About
Backed by modern facilities and enriched with in-depth market understanding, we, Akhil Industries, have established benchmarks of success by delivering quality assured range of electrical panels. We are counted among the prominent manufacturers and suppliers of a wide range of customized products encompassing Motor Control Center, Power Control Center, Power Distribution Board, Auto Power Factor Control Panel, AMF Panel, Control Desk Panel, Control Panel, Instrument Panel, and more. Our products are designed with precision in order to meet the global standards of quality and can be customized as per client demands. With the help of state of the technology and advance machinery, we engineer finest array of panels/ panel boards that exceed client expectations. All our products are made from superior grade materials, which are procured from trusted market vendors. Furthermore, our expert quality controllers make sure to check the finished range on certain parameters in order to ascertain maximum customer satisfaction. We are known for making quick deliveries of products in every nook and corner of the nation, which is possible due to our widespread distribution network. Apart from this, we also provide value added services for Retro fitting, Wiring jobs, Bus bar modification jobs and Panel extension jobs.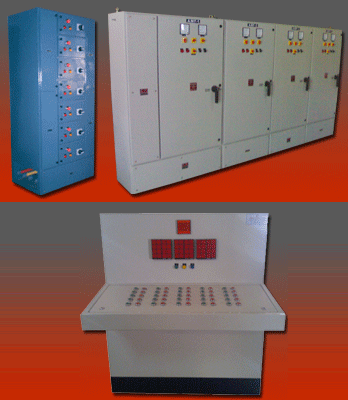 Our Strengths
Comprehensive Range Of Products
Modern Infrastructure
Easy Payment Modes
Stringent Quality Checks
Client Satisfaction
"We are dealing only in different cities of Gujarat including Ahmedabad, Vadodara, Surat, Rajkot and Gandhinagar."
Customized Products
We are manufacturer and supplier of:
Motor Control Center
Power Control Center
Control Desk Panel
Control Panel
Relay Panel
Busbar Junction Box
Power Distribution Boards
Portable Power Distribution Boards
Instrument Panel
Automation Panel
Lighting Distribution Board
Synchronize Panel
Auto Power Factor Control Panel
AMF Panel
PLC Panel
Drive Panel
In addition to this, we also provide a host of services for Retro fitting, Wiring jobs, Bus bar modification jobs and Panel extension jobs.
Manufacturing Division
We have developed world class facilities for designing and manufacturing of all types of panels suitable for different applications. We have invested heavily in our facilities to ensure efficient production at cost effective prices without compromising quality. Spread over a sprawling area of 9000sq.ft., our manufacturing unit is fitted with contemporary machines to speed up the manufacturing task directly proportional to demand. We regularly upgrade our facilities to increase our competence in delivering flawless and dimensionally accurate range of our products.
Our Management Team
We have reached the zenith of success in the industry under the supervision of our partner Sanjay Prajapati who possess sound eleven years of industry experience. Our other partner Vinod Chauhan with long fourteen years of experience has shown the ways of growth and prosperity to the organization. We follow his sharp business acumen and skills to cater to the varied demands of our clients effectively. We have been able to carve an enviable position in the market. His rich industrial experience and in-depth knowledge make possible for us to understand the diverse requirements of our clients and also facilitate us to fulfill them accordingly.
Our Clients
Meghmony Organics Ltd, Ankleshwar
Gujarat Gas Companay Ltd, Jhagadia/Ankleshwar
Gujarat Agro Chem Ltd, Panoli
Gulshan Polyols Ltd, Jhagadia
Supharma Industries Limited, Ankleshwar / Panoli
Chiron Behring Vaccines Pvt. Ltd, Ankleshwar
Wockhardt Limited, Ankleshwar
Hikal Limited, Panoli
Cadila Health Care Limited, Ankleshwar
Cadila Pharma Limited, Ankleshwar
Vardayini Chemical Inds Limited, Ankleshwar
Bhanu Dayes Pvt Limited, Jhagadia
Power Engineering (I) Pvt Ltd, Goa
United Phosphours Limited, Jhagadia/Ankleshwar
Meredian Chem Bond Limited, Ankleshwar
Shree Sulphuric Ltd, Ankleshwar
Atul Limited, Ankleshwar
Vidiocon Industries Limited, Ankleshwar
Sajjan India Limited, Ankleshwar
R.K.Reclam & Rubber Product Limited, Palej
Dynemic Product Limited(Nikhil Elec.), Ankleshwar
Kohler India Pvt. Ltd., Jhagadia
Sterling Auxiliary Pvt Ltd, Dahej
Dystar Ltd, Ankleshwar
Suzlon Infrastructure Limited, Waghodiya
J.B.Chemicals & Pahrma Limited, Ankleshwar
Voith Haydro Manjusar, G.I.D.C
Gnfc Ltd, Bharuch
Draagon Drugs Pvt. Ltd., Jhagadia
In addition to this, we also provide a host of services for Retro fitting, Wiring jobs, Bus bar modification jobs and Panel extension jobs.
Registered Office
Plot No. C1B/4750, Nr. Ficom Chowkdi
Gidc, Ankleshwar, 393002 (Gujarat) India